2004 Symposium
Come join us for this exciting one day conference.
When:   November 13, 2004, 9AM-5PM
At:   Florida Gulf Coast University: Student Union Ballroom
In:   Ft. Myers, FL
Cost:    $50.00
NEW: Download the:
Contact:   lindbergh@wwrecpa.com -or- symposium@earthshineinstitute.com for additional registration information.
Registrations must be received by November 8, 2004. After November 8, available tickets may be puchased on the day of the event at the Student Union Ballroom, Florida Gulf Coast University.
Speaker confirmations include:
Keynote speaker Paul MacCready, PhD, inventor, innovator, founder and chairman of AeroVironment Inc. and considered to be the father of human-powered flight.
Jesse H. Ausubel, director of the Program for the Human Environment and senior research associate at The Rockefeller University in New York City.
Dr. Richard Hallion, the eminent aviation historian and author of "Taking Flight; Inventing the Aerial Age." Dr. Hallion is the author of many admired books on aviation including the history of the Guggenheim Fund for which he conferred with Charles Lindbergh just before Lindbergh's death.
Eric Hopkins, noted aerial landscape painter, student pilot, gallery owner and lifelong resident of North Haven Island, Maine. Longtime friend of Anne Morrow Lindbergh's family, Anne Morrow Lindbergh admired Hopkins' work and perspective, visited his studio and gallery, and included one of his paintings in her collection.
Cliff Robertson, writer, poet, award-winning film and television actor and flight aficionado.
Welcome and opening remarks:  Margaret Eiluned Morgan, niece of Charles A. and Anne Morrow Lindbergh and president of The Earth Shine Institute and Lindbergh Symposium.
Closing Remarks:  Reeve Lindbergh, daughter of Charles A. and Anne Morrow Lindbergh, award-winning author, and member of the board of directors for The Charles A. and Anne Morrow Lindbergh Foundation.
Press Release:
[Click Here] for MS Word version of complete press release
Directions:
The Symposium will take place in a new location this year:
The Student Union, Ballroom, 2nd Floor
Florida Gulf Coast University
10501 FGCU Blvd. South
Fort Myers, FL 33965-6565
Handicapped access is available.
Florida Gulf Coast University is located in southwestern Florida between Fort Myers and Naples and is easily accessable from either US 41 or I-75.
Taking either US 41 or I-75 use either Alico Road (Exit 128) or Corkscrew Road (Exit 123) to Ben Hill Griffin Parkway. Ben Hill Griffin Parkway will take you to the main entrance of the University and FGCU Blvd. South.
Be sure to stop at the information booth just as you come in to the University and pick up your parking badge. There will be signs directing you to the appropriate parking lots and the Student Union.
Maps:
Click on the map below to go to Mapquest: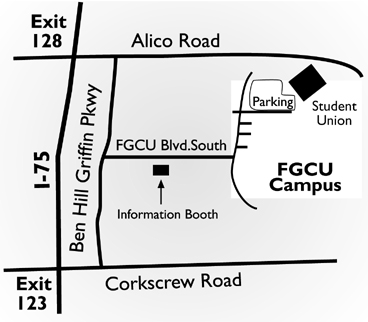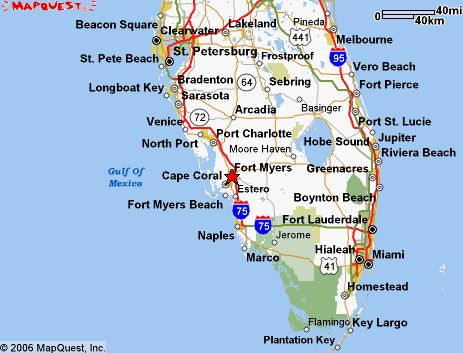 | | |
| --- | --- |
| Suggested Accomodations: | Special thanks to: |
$$$$
Hyatt Regency Coconut Point Resort
and Spa
5001 Coconut Point Resort Drive
Bonita Springs, FL 34134
Tel: 239-444-1234
1-800-233-1234
$$
Best Western Airport Inn
8955 Daniels Parkway
Fort Myers, FL 33907
Tel: 239-561-7000
Comfort Suites Airport
13651-A Indian Paint Lane
Fort Myers, FL 33912
Tel: 239-768-0005
1-800-435-8234
Tel: 239-768-0005
Fax: 239-738-5458
There are no accomodations within walking distance of the University so a rental car is advised.