2003 Symposium
"Wings to Lift the World"
An official Centennial of Flight Event celebrates the 100th anniversary of powered flight.
When:   November 15, 2003, 9AM-5PM
At:   Florida Gulf Coast University
In:   Ft. Myers, FL
Cost:    $50.00
Registration:  Click [Here]
Contact:   lindbergh@wwrecpa.com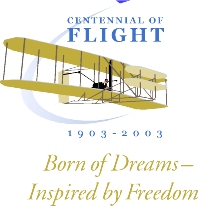 Download the 2003 Lindbergh Symposium Brochure [Here].
For information about other Centennial of Flight events, please see www.centennialofflight.gov
SETP Symposium to Celebrate 100th Anniversary of Flight (Press Release)
Society of Experimental Test Pilots Symposium (web site)
Speakers included:
Jim Fowler, a Lindbergh Award recipient, internationally noted naturalist, authority on predatory birds and media spokesman for wildlife conservation. Fowler earned international acclaim for his work as co-host and host of "Mutual of Omaha's Wild Kingdom," and later the "Spirit of Adventure" program.
Sergei Sikorsky, early pioneer in the helicopter search and rescue field, past vice president of United Technologies Sikorsky Aircraft USA. Sergei Sikorsky is the son of Igor Sikorsky, who invented and flew the world's first practical operational helicopter and worked with Charles Lindbergh on the early amphibian aircraft that paved the way for future commercial international air travel.
Dr. Richard Hallion, the eminent aviation historian and author of "Taking Flight; Inventing the Aerial Age." Dr. Hallion is the author of many admired books on aviation including the history of the Guggenheim Fund for which he conferred with Charles Lindbergh just before Lindbergh's death.
Peter Lawson-Johnston, Former Lindbergh Foundation Board member, relative of aviation visionaries Daniel Guggenheim and Harry Guggenheim, and Chairman of the Harry Frank Guggenheim Foundation. Mr. Lawson will discuss how the tradition of Guggenheim funding for cutting edge research continues today and how they are pursuing new horizons with the "Man's Relation to Man" project.
Kristina Lindbergh, granddaughter of Charles and Anne Morrow Lindbergh.
Welcome and opening remarks:  Margaret Eiluned Morgan, niece of Charles A. and Anne Morrow Lindbergh and president of The Earth Shine Institute and Lindbergh Symposium.
Closing Remarks:  Reeve Lindbergh, daughter of Charles A. and Anne Morrow Lindbergh, award-winning author, and president of The Charles A. and Anne Morrow Lindbergh Foundation.
For detailed speaker biographies, see the Symposium Press Release page.
---
Directions:
The Symposium takes place in:
Sprint Room, Whittaker Building
Florida Gulf Coast University
10501 FGCU Blvd. South
Fort Myers, FL 33965-6565
Handicapped access is available.
Florida Gulf Coast University is located in southwestern Florida between Fort Myers and Naples and is easily accessable from either US 41 or I-75.
Taking either US 41 or I-75 use either Alico Road (Exit 128) or Corkscrew Road (Exit 123) to Ben Hill Griffin Parkway. Ben Hill Griffin Parkway will take you to the main entrance of the University and FGCU Blvd. South.
Be sure to stop at the information booth just as you come in to the University and pick up your parking badge. There will be signs directing you to the appropriate parking lot and the Whittaker Building.
Map:
| | |
| --- | --- |
| Suggested Accomodations: | Special thanks to: |
$$$$
Hyatt Regency Coconut Point Resort
and Spa
5001 Coconut Point Resort Drive
Bonita Springs, FL 34134
Tel: 239-444-1234
1-800-233-1234
$$
Best Western Airport Inn
8955 Daniels Parkway
Fort Myers, FL 33907
Tel: 239-561-7000
Comfort Suites Airport
13651-A Indian Paint Lane
Fort Myers, FL 33912
Tel: 239-768-0005
1-800-435-8234
Tel: 239-768-0005
Fax: 239-738-5458
There are no accomodations within walking distance of the University so a rental car is advised.