2005 Symposium
"The Writer and the Writing"
Anne Morrow Lindbergh and Gift from the Sea
Come join us for this exciting one-day conference.
When:   November 18, 2005
At:    Tween Waters Inn
Where:    Captiva Island, Florida
Cost:    $75.00
A brochure is in preparation and will be available to download as a pdf with a registration form.
Contact:  symposium@earthshineinstitute.com or Kelly Powell at 239-415-3155 to be placed on our mailing list or receive further information.
Keynote Speaker: Judith Schiff, Chief Archivist of the Yale Sterling Library and in charge of the Lindbergh Papers.
The 2005 Lindbergh Symposium, "The Writer and the Writing", Anne Morrow Lindbergh and Gift from the Sea, is part of a week long "Gift from the Sea" Festival with a variety of events you will be interested in.
Directions:
In honor of the 50th Anniversary of the publication of Anne Morrow Lindbergh's classic and beloved book, Gift from the Sea, the 2005 Lindbergh Symposium will be held on the island of Captiva (the setting for the book) at the Tween Waters Inn.
Tween Waters Inn 15951 Captiva Dr. Captiva, FL 33924
Captiva Island is a barrier island off the Southwestern Florida Coast near Fort Myers. The nearest airport is the Fort Myers International Airport.
Take US 41 or I-75 to Daniels Parkway. Follow signs to Sanibel and Captiva Islands to Summerlin Rd. Take Summerlin Rd to the Sanibel causeway (toll: $6.00), and when you reach the other side, turn right at the stop sign on Periwinkle way. Follow signs to Captiva making a right on Palm Ridge Road, which will turn into Sanibel Captiva Drive after the four-way stop. Go straight, and continue on the Sanibel Captiva Drive which will take you onto Captiva Island. You are now on Captiva Drive. Continue on Captiva Drive until you see the Tween Waters Inn on your right.
Map: 
Click on the MapQuest map below for detailed directions: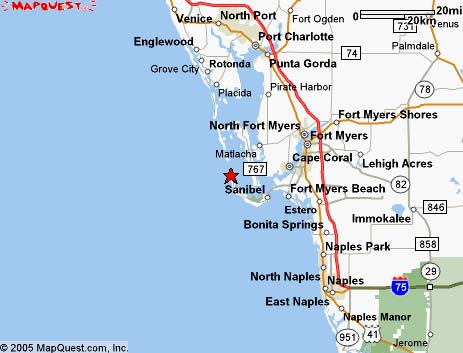 Lodging:
Captiva Island Inn
The Historic Captiva Island Inn is located right on the street where most of the "Gift from the Sea" festivities will take place. Take a room by room tour at www.captivaislandinn.com to view rates and accommodations. Rates include a full breakfast daily at either Keylime Bistro or RC Otter's.
Reservations: 800-454-9898
11509 Andy Rosse Lane
Captiva Island Village
Captiva Island, FL 33924
Tel: 239-395-0882
Sanibel Harbour Resort & Spa
Nestled on a natural 85-acre peninsula, Sanibel Harbour Resort & Spa overlooks Sanibel & Captiva Islands in Fort Myers. Our luxurious retreat with world-class amenities as endless as the captivating views is a AAA Four-Diamond Award Winner and proud member of Preferred Hotels & Resorts. 400 spacious accommodations, a pampering spa, fitness, tennis, supervised children's programs, cruises, water sports and delectable dining – the timeless treasures of paradise await you at Sanibel Harbour Resort & Spa.
Rate/Offer: $189 per night double occupancy with a two-night minimum. Taxes and an exclusive benefits fee are extra.
Reservations: 800-767-7777
West Wind Inn
An award winning resort on Sanibel Island with miles of beach to explore.
Special Rate/Offer: Any three nights at $133.00 per night.
Reservations: 800-824-0476 or wwinn@westwindinn.com
Tween Waters Inn
15951 Captiva Dr.
Captiva, FL 33924
Tel: 239-472-5161